Located in the heart of urban Honolulu in the historic Laniakea building, Myron B.Thompson Academy is a continuously evolving New Century public charter school. The accelerated curriculum combines blended and interactive virtual instruction. Our students are a diverse, eclectic mix of bright, self-motivated and interesting young people. They reside on all major Hawaiian Islands.
Hawai'i E-Charter formally changed its name to Myron B. Thompson Academy (MBTA) in August 2002. It is a hybrid K-12 school that provides competency-based courses and standards-driven instruction to students on Kauai, Oahu, Molokai,Maui and Hawai'i. The standards-based curriculum extends beyond the traditional classroom to a me of teachers and a network of worldwide resources. The K-12 coursework integrates thematic curriculum with problem- solving activities. Secondary students in grades 7-12 are able to navigate through academic content supported by interactive sessions with teachers and other students, videos, and other multi-media technologies. Students in grades K-6 are equipped with combinations of curricula in all disciplines taught by elementary master teachers and supported by parent mentors. These mentor teachers are also responsible for the planning and coordination of co-curricular activities, field trips, athletic events and enrichment activities. With the rapid pace of advancements in technology, MBTA will provide Hawaii's children with quality education and skills to prepare them for the digital workforce.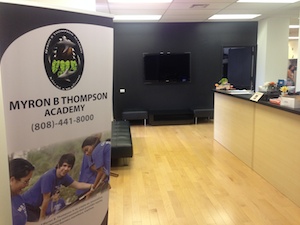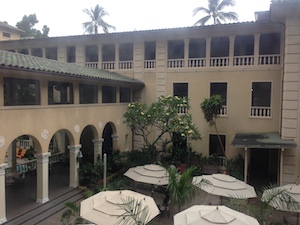 This school is an expansion of E-School, a supplementary program that has been in operation since 1996. E-School (Electronic School), operated by the Hawai'i Department of Education's Advanced Technology Research (ATR) section, is a 1996 United States Department of Education Technology Innovation Challenge Grant recipient.

There are 5 campuses statewide on Kauai, Oahu, Maui, Hawaii-Kona, Hawaii-Hilo
Myron B. Thompson Academy is accredited by the Western Association of Schools and Colleges (WASC) and the Commission on the International Trans-Regional Accreditation (CITA). The Accrediting Commission of the WASC is NCAA approved for college bound athletes.

Myron B. Thompson is a public Hawaii State Charter School. All credits earned at Thompson Academy will be accepted by other K-12 public schools, colleges, universities, military and employers.

For information about the WASC, see www.acswasc.org.